Responsible Golden Retriever Breeders
One of our priorities at Windy Knoll Goldens is to provide puppies that will be excellent, healthy, friendly companions, and pets for life. The foundation to achieving our goal is making sure the parents exhibit those qualities. As caring golden retriever breeders, we test our dogs for common golden retriever genetic points including DM, GRPRA1, GRPRA2, MD etc. and have them certified with the Orthopedic Foundation of America (OFA) or PennHip to ensure our breeding dogs and their puppies are not prone to genetic weaknesses. X-Ray tests and screens are performed when the dogs reach an appropriate age – usually 2 years old (OFA) and usually around 1 year old (PennHIP). As responsible golden retriever breeders we always research our pedigree for optimal breeding lines.
Meet The Windy Knoll AKC Golden Retrievers
Our small family of Golden Retrievers is registered with the AKC (American Kennel Club), the registration association of choice for outstanding canines. More importantly, our lovely and beautiful Golden Retrievers are all happy, healthy dogs selected for their warm, friendly, and outstanding personalities as well as their health genetics!
Windy Knoll Ulysses S. Grant
AKC Golden Retriever
Date of Birth: 11/17/2016
Friendly and eager, Ulysses S. Grant, affectionately nicknamed "Grant", is our Golden sire who not only carries a beautiful dark red coat, but also has fantastic hips! Athletically built at around 75 lbs., with a trim, proportionate, and graceful build and a fine, though waving soft coat, Grant is a beautiful Golden with a warm, loving heart devoted to pleasing us!
Grant is available for stud to approved dams.
Charles of Windy Knoll Goldens
AKC Golden Retriever
Charlie is our handsome, deep chested, honey hued Golden boy, sporting a luxurious soft coat of medium length, and weighing in around 80 lbs. In spite of his manly image, he has endeared himself to us with his gentle, loyal, and loving nature! Intelligent and eager to please, Charlie is a great Golden guy!
Charlie is available for stud to approved dams.
Theodore Roosevelt of Windy Knoll Goldens
AKC Golden Retriever
Teddy exhibits perfect calm and happiness at times and perfectly exuberant delight other times running up and down trails in the woods. He is very affectionate and loves to be with people and children.  He has sired such nice litters that we decided to keep a puppy for ourselves.
Teddy is available for stud to approved dams.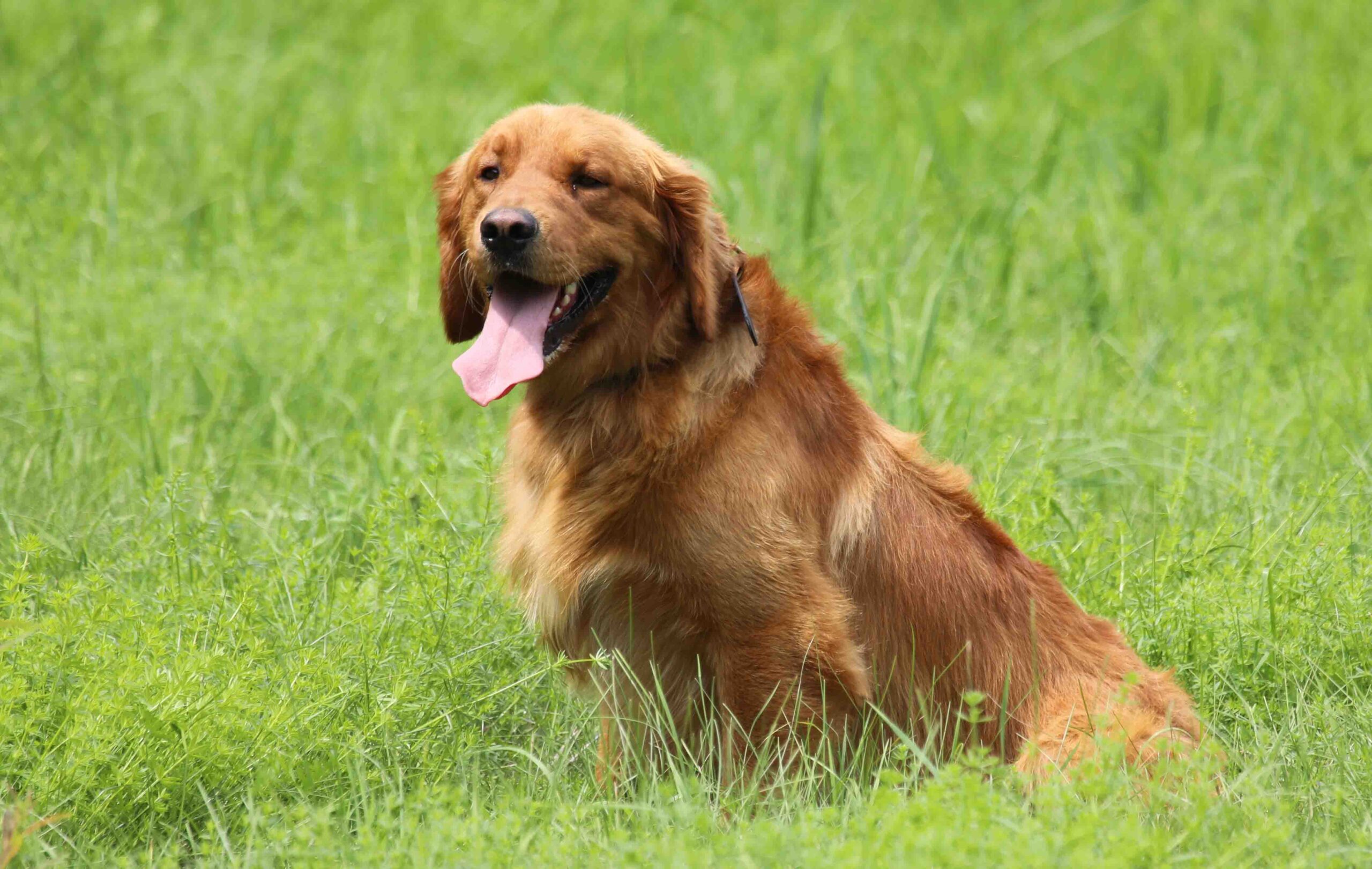 King George of Windy Knoll Goldens
AKC Golden Retriever
George, our darkest red male, is our largest male and probably our most energetic male simply because he still thinks he is a puppy. He is very loving and enthusiastic but also gentle and caring around the children. He loves to romp and play with our other dogs and is always curious about new things. George is clear on all the genetic tests and has great hips as well. His first litter is a calm, and quiet bunch of very cute golden retriever puppies!
Our Retired Males
Buddy is a large, happy English cream golden retriever who wants to be a part of all the action.  His line was imported from Europe 2 generations ago. He is a very strong and friendly golden and is good with our children and the other dogs. He is enthusiastic, energetic and smart, which makes him easy to train. You might think of him as a very manly dog!