Today marked the date the our puppies are only one day shy of six weeks old – and also marked the occasion of our vet, Dr. Dru Polinger, along with her assistant, her husband Steve, coming out to Windy Knoll Farm to give vet exams for our Golden Retriever puppies.
Dr. Polinger and Steve are not only our well loved vets, but have also become friends — truly the best kind of "professional relationship" to enjoy!
Betsy and Jenny succeeded in distracting the children from helping to set up for the vet's visit! :o)
All fifteen puppies awaited their turn in our small "holding" pen, some quietly observing the proceedings, some vocally ensuring their turn, and some sleeping through the event!
Dr. Polinger gently and thoroughly examined each of our young canines. First up came the weigh in – and these puppies of 2015 hold the record of averaging out as  the largest (in terms of weight) of our litters!
A careful palpation of the entire body followed weigh in, and all the pups exhibited good manners as they relaxed under the experienced hands of Dr. Polinger. Ears were checked.
Dr. Polinger listened the the heart rate.
Shots were administered.
And yes, sometimes it's important to have an animated discussion as a puppy's belly is checked!
Each little mouth and all the little teeth came under scrutiny.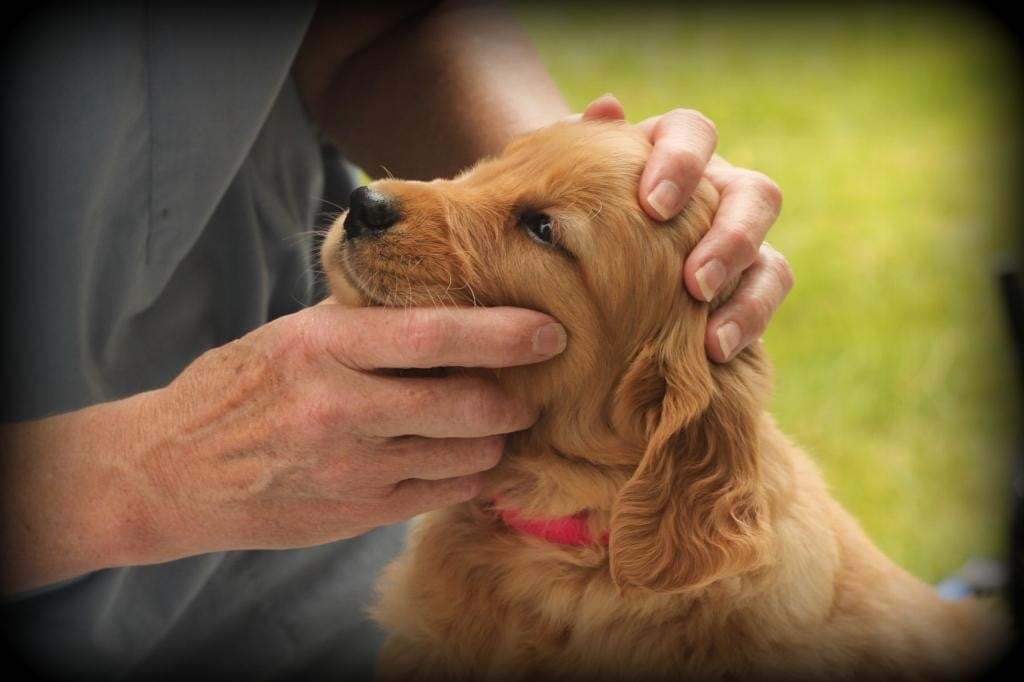 The last step of exam included the inspection of those soft, adoring eyes with Dr. Polinger's special light. The children were quite fascinated by it (actually, I was too), but I think the puppies were happy when the step was concluded.
Cheryl, our neighbor and loyal, faithful caretaker of our dogs when we are absent, lent a helping hand during the puppies examinations.
Jonathan and Mary also lent a helping hand as puppies were shuttled from the holding pen to the exam table and then back to their home sweet home play yard.
This little guy was quite the armload for Mary Grace…,
…but she managed to make it over the scale with just a little bit of help!
We're so glad to report that all of our Golden Retriever puppies passed their health checks with flying colors and excellent manners! Our thanks goes to Dr. Polinger and Steve for their great care of our dogs and puppies!
GOOD – BYE!