Jenny's litter of nine adorable AKC Golden Retriever puppies will turn four weeks old tomorrow! From tiny little bundles as newborns, they have rapidly grown into plump, rigorous month old pups! 
Our beautiful New England summer weather has been perfect for the pups to enjoy the outdoors. They tumble and play about in the grass, growling and wrestling, tumbling and rolling, in the way that only puppies can manage!
They love to hide in the cool, soft dirt, but rapidly come tumbling out if company arrives!
And not only are they enjoying the delights of exploring and romping, they are well established with their introduction to food and are eagerly chowing down their meals – Zignature dog food soaked in raw, whole goat's milk.
Part of their day today included receiving a dose of dewormer. They loved the taste! All three girls took turns helping to administer each puppy's dose of medicine.
These cute little fellows, three out of the five males of the litter, had just finished up their afternoon meal and didn't want to sit still for pictures!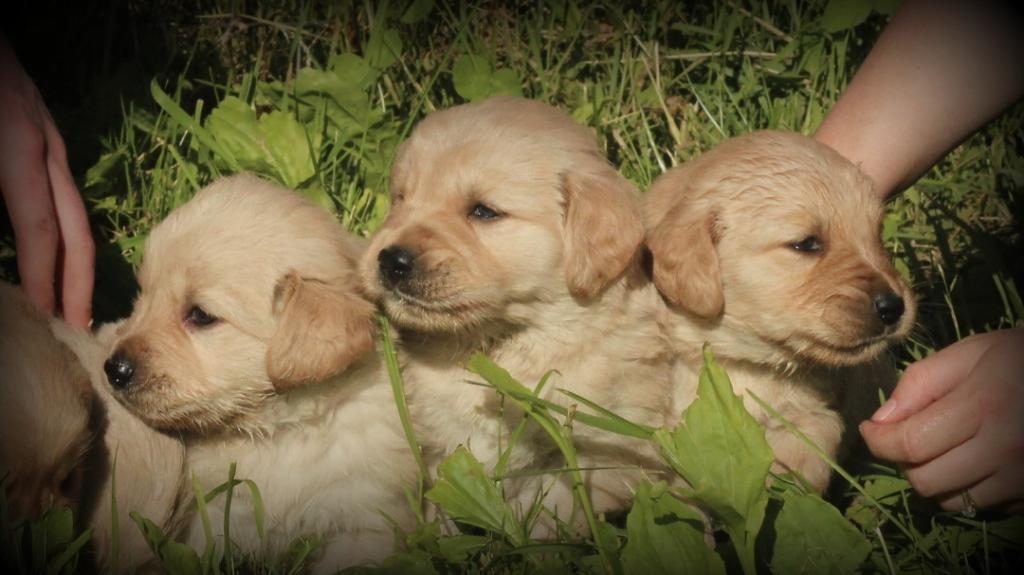 Adding two more puppies into the picture included all of these handsome young boys. The girls are just as adorable, but happened to be too busy finishing their meal to pose for pictures!
At almost four weeks old, these little canines are maturing to the point where their ability to interact and play with us has vastly increased, much to the children's delight.
We hope that you enjoyed your day as much as we and our puppies enjoyed ours! Have a great weekend!