Here at Windy Knoll Goldens, things have been busy as we prepared for the new litter from Clover and Grant.  These 6 males and 2 females, born on March 5th are probably the darkest red goldens we will have this spring. Clover's first birthing was a little amusing as she didn't really know what to do with the first cute male pup that lay on the floor in front of her. She sniffed it, then went to sit on the other side of the pen. After a few seconds she got up to check it again and licked it a few times but returned again to the other side of the pen. Eventually I picked the pup up and put it right up against her. At which point she figured this new bundle was hers after all and started caring for it.
All eight puppies were born without a hitch and have the sweetest mother to care for them.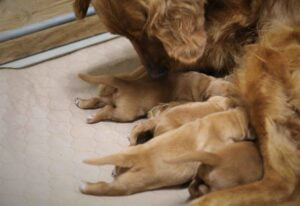 Clover, the full sister to a number of our goldens including Susie, Patsy and Elemay, is probably the most caring and loving mother of them all.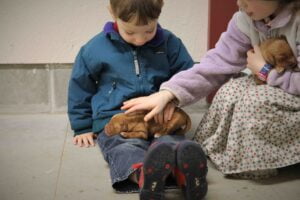 Be sure to reserve your puppy soon as this will be the darkest golden litter going home until June!