Responsible Golden Retriever Breeders
One of our priorities at Windy Knoll Goldens is to provide puppies that will be excellent, healthy, friendly companions, and pets for life. The foundation to achieving our goal is making sure the parents exhibit those qualities. As caring golden retriever breeders, we test our dogs for common golden retriever genetic points including DM, GRPRA1, GRPRA2, MD etc. and have them certified with the Orthopedic Foundation of America (OFA) or PennHip to ensure our breeding dogs and their puppies are not prone to genetic weaknesses. X-Ray tests and screens are performed when the dogs reach an appropriate age – usually 2 years old (OFA) and usually around 1 year old (PennHIP). As responsible golden retriever breeders we always research our pedigree for optimal breeding lines.
Meet The Windy Knoll AKC Golden Retriever Girls
Our small family of Golden Retrievers is registered with the AKC (American Kennel Club), the registration association of choice for outstanding canines. More importantly, our lovely and beautiful Golden Retrievers are all happy, healthy dogs selected for their warm, friendly, and outstanding personalities as well as their health genetics!
Sweet Spice of Windy Knoll Goldens
AKC Golden Retriever
A medium-sized golden with a beautiful, creamy gold coat and well proportioned slender build, Spice possesses a regal bearing and a lovely, gentle, and sweet personality. She is a quiet golden who is content just to be in our presence, and while sporting a trim, lightly feathered coat during the summer, her winter coat thickens to a luxurious, thick layer during the winter months.
Martha Washington of Windy Knoll Goldens
AKC Golden Retriever
Possessing a graceful, well proportioned build at an average weight of 75 lbs., Patsy is a gorgeous, dark red Golden. She is quiet and unassuming, giving her loyalty and affection sweetly and gently to the human companions that she loves. Patsy is intelligent (our eight year old son did quite a bit of her training), and can often be seen sporting a cheery doggy grin!
Oh Susanna of Windy Knoll Goldens
AKC Golden Retriever
The full sister of Patsy and Clara, Susie comes in as the most slender, lithe build weighing around 55 lbs. Susie is a dark red all American golden retriever, but just a shade lighter than her two sisters. She loves playing fetch and is probably the most energetic of the three sisters. She calmly and loving plays around our children and interacts in a fun-loving manner with her other golden friends.
Florence of Windy Knoll Goldens
AKC Golden Retriever
Florence, a graceful, elegant, and calm English Cream golden, is a friendly, playful golden. You can see her running around the spacious fenced in field with the other goldens or curled up in her heated pen. She is a great addition to our quality lines of golden retrievers. Her first litter went home in 2020.
Windy Knoll Goldens Daisy
AKC Golden Retriever
Ellamae of Windy Knoll Goldens
AKC Golden Retriever
Date of Birth: 12/16/2019
Windy Knoll Goldie
AKC Golden Retriever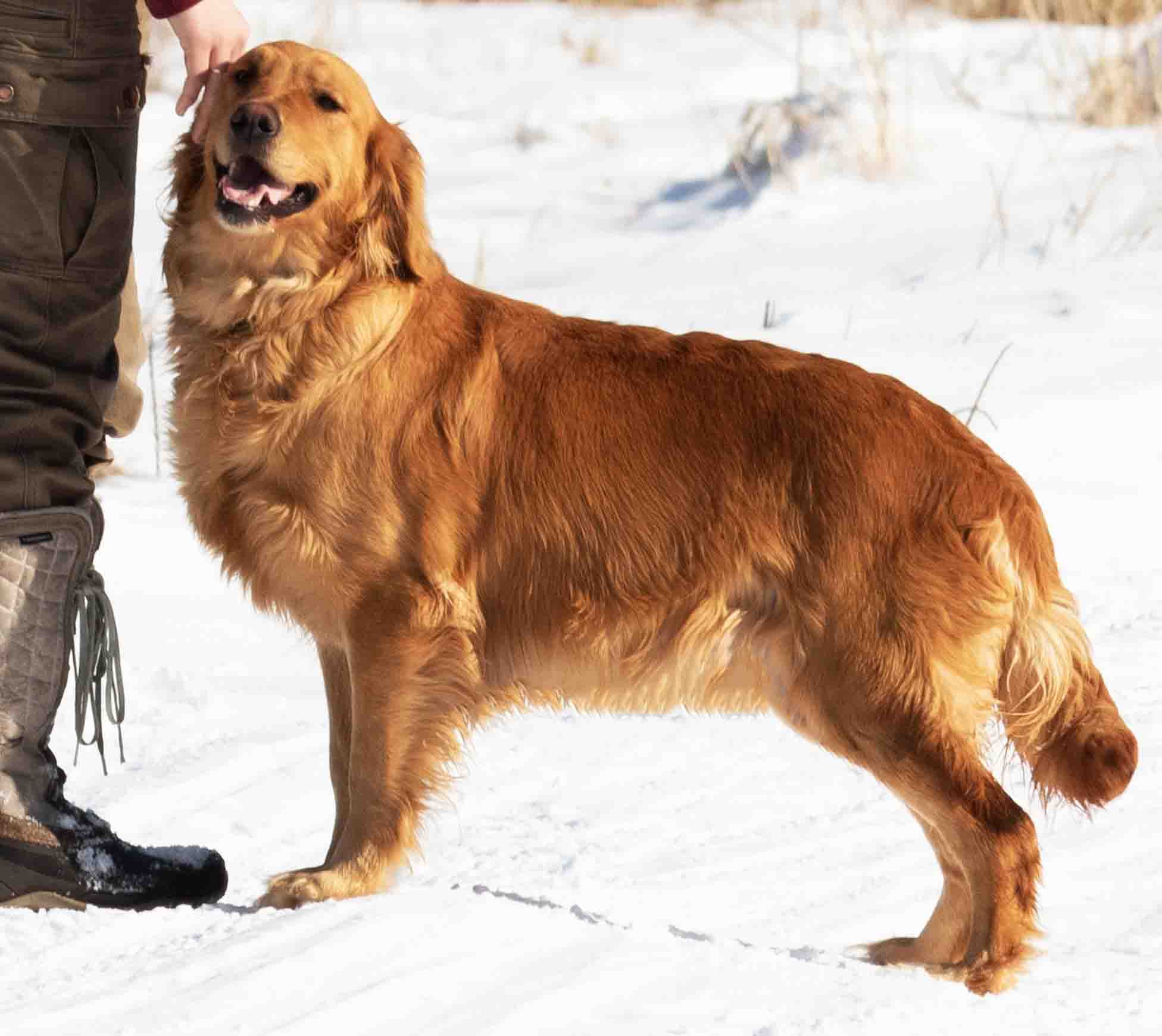 Pretty Pickle of Windy Knoll Goldens
AKC Golden Retriever